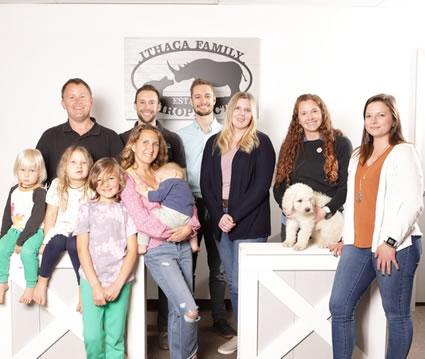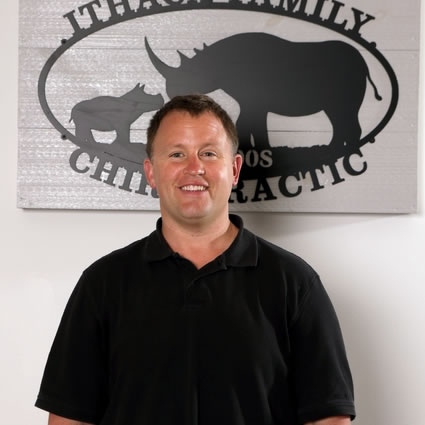 Dr. Brian Bartholomew decided to be a chiropractor at age 13, wanting to help people get healthy, naturally. He is a graduate of Binghamton University with a B.S. in Biology. After, he attended
Palmer College of Chiropractic
in Port Orange, Florida.
The techniques Dr. Brian utilizes include Palmer, Gonstead, Specific Upper Cervical Care, Pettibon Rehab, Activator(R), Arthro-Stim(R), Diversified, extremity adjusting and a mixture of various techniques needed to help patients of all ages and sizes.
Dr. Brian has completed many courses on pediatrics and pregnancy. After years in practice and having seen thousands of patients, he is an expert in full family care. He enjoys spending time with his family, outdoor activities, working out, sports, fishing, hunting, running, reading and of course, chiropractic! Additionally, he has a brother, Dr. Jeremy Bartholomew, who practices in Omaha, Nebraska.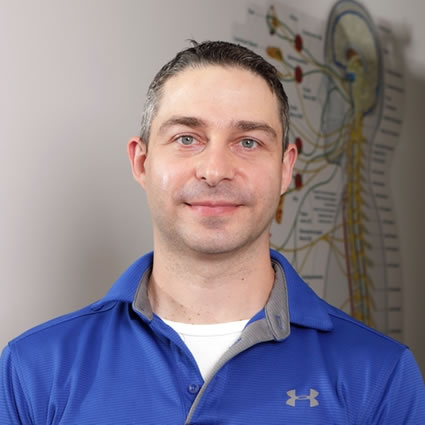 Dr. Mike Massari graduated magna cum laude from the University of Bridgeport College of Chiropractic. He holds a postgraduate certification in electrodiagnostics from
New York Chiropractic College
and a B.S. in Exercise Science from Ithaca College, where he ran cross country and track.
After practicing on Long Island for over five years, Dr. Mike joined Ithaca Family Chiropractic in 2013. He is interested in spending time with his family and friends, sports, running and his Miniature Pinschers.
For your convenience, Dr. Mike has numerous informative articles and videos on his website for you to explore and to become better educated about chiropractic.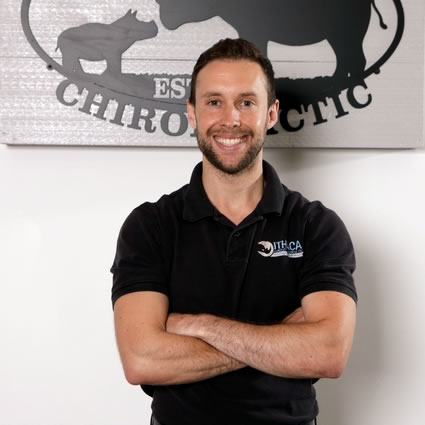 Dr. Aaron Barnhart grew up in the town of Apalachin, New York. He graduated summa cum laude from Misericordia University in Dallas, Pennsylvania. There, he obtained his B.S. in Biology and was a four-year varsity soccer player. He went on to earn his Doctor of Chiropractic degree with honors from New York Chiropractic College in Seneca Falls, New York.
Dr. Aaron utilized chiropractic care in his teens to stay healthy and to perform at the highest level athletically. He is inspired to provide people with quality chiropractic care. It's a passion of Dr. Aaron's to help people live the healthiest and highest quality of life possible.
In his free time, Dr. Aaron enjoys staying active with weightlifting, sports, running and makes music as a lifelong musician.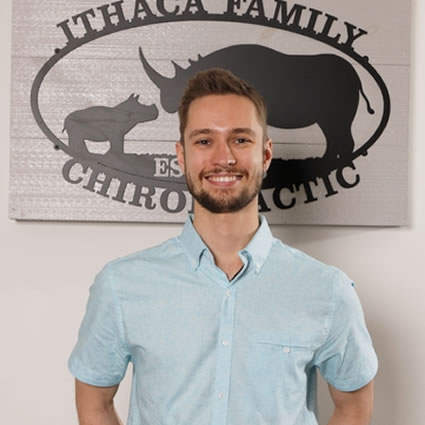 Dr. Jordan Kurbs is originally from Lockport, New York. Previously, he has earned a BS in Biology from Hobart & William Smith Colleges, where he spent a semester abroad in Denmark studying Neuroscience. Afterward, he graduated magna cum laude from Palmer College of Chiropractic in Davenport, Iowa.
Growing up with a father as a chiropractor, Dr. Jordan understood from an early age that having a clear and connected nervous system allows the body to function and heal at its best. After struggling with depression throughout his college years and seeing the tremendous impact chiropractic had on his physical and mental health, Dr. Jordan decided to become a chiropractor to help people achieve higher levels of health and human performance.
After practicing in Norway for three years, Dr. Jordan joined the Ithaca Family Chiropractic team in 2021. His two favorite personal hobbies, apart from continually learning, are working out and snowboarding.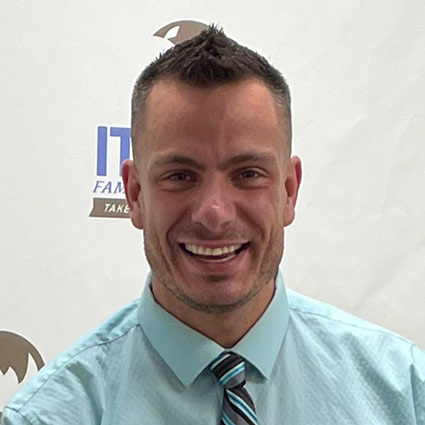 Dr. Kris is originally from Syracuse, New York. Previously, he has earned a BA in Psychology from
Wells College
. Afterward, he graduated from New York Chiropractic College in Seneca Falls, New York.
In a family of nurses, Dr. Kris realized the over-utilization of medicines and began finding alternate professions that help to heal with a less invasive approach. Dr. Kris's values aligned with chiropractic care and in 2014 he began practicing in Orlando, Florida. In 2021, Dr. Kris joined the team at Ithaca Family Chiropractic.
Dr. Kris has been active in the LGBT+ and mental health communities, running for charity and participating in academic symposiums and panels. Dr. Kris loves fun socks, his two adorable cats, cooking, working out and sewing. He continues to be involved in the community and welcomes all opportunities for outreach.

Ashley Gresock has a passion for natural health and loves to share that with practice members. When in the office, she can assist in many areas, from scheduling and reviewing X-rays to helping patients navigate the insurance world. When she isn't in the office, Ashley enjoys running, yoga, skiing, backpacking and time spent outdoors with her dog, Pepper.

Meet the Team at Ithaca Family Chiropractic | (607) 257-9355